How to incorporate continuous learning in daily operations
Change as the only constant in business
The time in which we find ourselves is often seen as a time marked by change. Change that is taking place at an ever-increasing rate and which is growing exponentially. Yet, change is of all times. Already in ancient Greece the great philosopher Heraclitus (540-480 b.c) envisioned change as the only constant in life. 
 "The only thing that is constant is change." – Heraclitus
Business is no exception to this vision. To keep up with the increasing speed and constant nature of change, continuous learning is the most important long-term investment a company can make.
That is why in this article we will introduce you to the continuous learning cycle. This model helps you to align learning to your strategy and integrate continuous learning into the flow of work within your organisation. We will explain why this model is relevant, how it works and what steps you can take today to make your organisation a continuous learning organisation.
The trend of continuous learning
Over the past year, continuous learning has been 'hot topic' within business literature. Many articles stressed the importance of integrating continuous learning into the day-to-day operations of companies and its impact on long-term success. In his book 'Experimentation works: The surprising power of business experiments', Stefan H. Thomke concretises this importance by comparing the Standard & Poor's 500 performance of companies that integrate experimentation and continuous learning in every aspect of their organisation with companies that don't. The results don't lie. Experimenting and continuous learning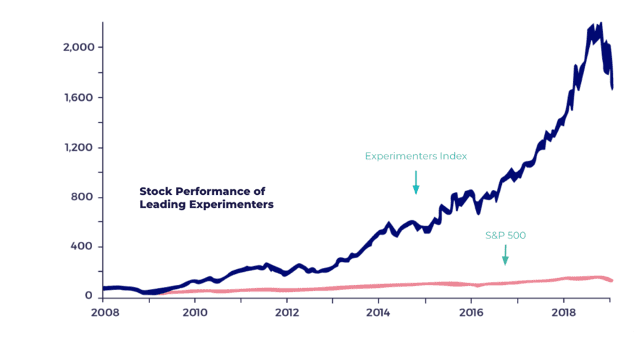 organisations significantly outperform the S&P 500. The reason for this? Continuous learning.
Source: Thomke, Stefan H., 2020.
In previous editions of The Next Quarterly we highlighted the importance of organisational learning, specifically the trend of continuous learning. We addressed the reskilling of the workforce by developing personal learning programmes to successfully implement the changes brought by, among others, COVID-19. However, continuous learning encompasses more than personal learning programmes and this article builds on this by introducing the continuous learning cycle. A model in which the integration of continuous learning in the daily organisation and operation is central. The model is based on 4 E's; education, experience, exposure and environment, each of which plays an essential role in the learning process of the organisation and the individual.
From 70:20:10 to continuous learning
Continuous learning focuses on all learning needs of an organisation or individual on different facets of the learning process. Central focus is the learner and learning as a fixed part of the daily operation. The term continuous learning was first developed by Bersin (2015) as an extension of the classical vision that prevailed until then. Bersin defines "continuous learning" as:
 "…structuring resources, expectations, and learning culture in such a way as to encourage employees to learn

continuously throughout their tenure with the organisation."
In contrast with continuous learning, classic learning solely focuses on development and completion of official learning programmes like trainings, workshops and (e-)learning courses. These learning courses are standard and pushed down into the organisation by management and the Learning and Development department.
According to the 70:20:10 rule, education through official learning programmes accounts for only 10% of the learning process. Exposure through mentoring, feedback and coaching account for 20%, where experience through working on the job accounts for 70%. Contrary to the classical view, continuous learning acknowledges that in order to successfully complete the learning process, focus should be on the complete process rather than solely a series of learning programmes. By doing so, an organisation increases its adaptability and agility by creation of better retention, continuous development and increased learning responsibility of the employee.
The continuous learning cycle
Based on the work of Bersin, the continuous learning cycle identifies three different types of learners' needs (operational, functional and transitional) and four contexts in the learning process, the 4-E's (education, experience, exposure and environment).
The model encompasses three different types of learners' needs:The model encompasses three different types of learners' needs:
Operational: the development of skills and/or knowledge that is needed to be successful in the moment.
Functional: the development of skills and/or knowledge that is needed to progress or grow in the current position/role/job.
Transitional: the development of skills and knowledge to realise future or long-term business goals.
Since not all learning takes place in classrooms, the model describes four contexts in which learning takes place during the learning process:
Education: traditional learning-, and development activities that take place in formal settings (e.g., e-learning and trainings)
Experience: acquiring knowledge and skills by putting theoretical knowledge into practice and carrying out activities related to the learning need (e.g., broadening assignments, job rotation, specific projects)
Exposure: learning and development that takes place through interaction and relationships with colleagues and other professionals (e.g., feedback, mentoring e coaching)
Environment: resources and infrastructures in the organisation that support and stimulate continuous learning (e.g., online library)
How to start the cycle?
Now that we described the different elements of the model it is time to integrate continuous learning into your organisation. But how can you do this? To set you up, we developed a series of steps you can follow to translate your strategies to concrete learning needs per context.
Set business objectives
If there is no clear strategy within your company, start by clearly defining a vision for the future. You translate this vision into concrete objectives and goals on a strategic, tactical and operational level.
Determine knowledge and skills
Now that you defined your business objectives and goals on strategic, tactical and operational level it is time to determine which knowledge and skills are needed to achieve this. We can divide these into professional and technical knowledge and skills. Professional knowledge and skills are those you need to deliver value in the most correct way. (e.g. communication and flexibility) Technical knowledge and skills are basic to execute core business activities (e.g. analytical reasoning, advisory skills).
Identify the gap
After defining the skills and knowledge needed in order to achieve your objectives and goals you need to determine which knowledge and skills are already present in your organisation and which are still missing. The missing knowledge and skills are the ones that you need to develop in your organisation or obtain from outside your organisation.
Define the learning needs
Once you've identified the knowledge and skills you need to develop you have to translate these to specific learning needs and map them in the different contexts of the model. What learning needs are there with regard to education? And with regard to experience and exposure? And what infrastructure needs to be put in place to stimulate and facilitate these learning needs? Finally, you will have to decide if you are going to develop this internally or attract them externally through, for example, outsourcing.
Even though it is accelerating, change is a constant in business. To keep up with the speed and constant nature, investing in continuous learning is essential. The continuous learning cycle helps you with this by integrating learning in your everyday business and operations. The model describes a learning cycle based on organisation's strategy, three different learner needs and four learning contexts. By using a step-by-step approach, the model defines learning needs matching business objectives.
The Next Organization offers the continuous learning cycle to help organisations adapting their business to change and achieve set objectives. Based on discussions we help companies anticipate the consequences of change, envision their next move and identify matching learning needs to emerge as a stronger organisation.
Interested in the learning cycle and how it takes your organisation to the next level? Feel free to contact us.