Achieving sustainable growth for our customers, that is what we do
The market is constantly changing. Therefore, organisations have to determine over and over again what role they play for their customers. Customer behaviour, technological possibilities and trends offer many opportunities. Discovering and making the best possible use of these opportunities is something The Next Organization is happy to help with. This way, commercial success becomes within reach.
As an international organisation consultancy firm, we stand for innovation, decisiveness and a healthy portion of fun. So, we use our expertise to provide organisations with insightful advice, future-oriented solutions and personalized training.
The mission of The Next Organization? Bringing your company to a next level.
Our identity
forms the basis
Inspiration by innovation
Knowledge is at the heart of our organisation. We translate trends, new technologies and changing customer behaviour into innovative solutions for our customers.
Power to perform
Improving commercial performance is our focus. Among other things, we develop future-proof growth strategies and strengthen management to realise them.
Collaboration with fun
Pleasant and interactive collaboration with our customers is our priority. We involve the different layers of an organisation throughout the entire process.
Step by step from
strategy to realisation
It is our passion to help organisations to The next level. We like to inspire organisations with the possibilities that trends, new technologies and changing customer behavior offer.
Almost always we start with a small first phase in which we analyse a problem and translate it into possibilities. We quickly give a picture of the expected result.
We plan the next step in several phases with clear intermediate results. The advantage is that organisations are not tied to large projects, with an equally large impact and investments. In addition, this stepwise approach offers room for adjustment where necessary.
Our approach is based on the following:
Your customer is central in every project
A good strategy responds to the needs of your customer. That is why it is essential for us to identify your customer and his (future) needs. We do this by doing research at the beginning of a project and by entering into dialogue with stakeholders.
We do not work for, but with organisations
By actively working with your organisation, we make you the owner of the process and the result. In this way we create broad support for the new strategy and the changes that go with it. To ensure good cooperation, we work with project teams and provide workshops for the management and/or employees of your organisation.
We do both strategy and implementation
A new strategy is only really working if it is successfully implemented. That is why we like to think along with your organisation to make the strategy concrete. We regularly test strategies developed directly in practice and use the feedback to improve them where necessary.
Your customer is central in every project
We do not work for, but with organisations
We do both strategy and implementation
Optimisation and innovation
of your business model.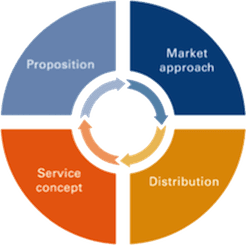 Clear strategy for sharp focus.
Organisations with a clear strategy are able to successfully align their people, processes, structures and systems. A strategy consists of four elements: proposition, marketing, distribution and service.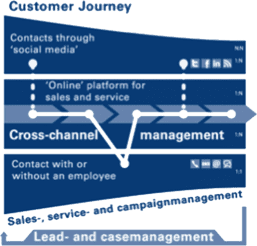 Organisational setup for maximum performance.
Successful (sales) organisations with a good commercial performance have set up the distribution in an unambiguous and coherent manner. By commercial performance we mean delivering maximum conversion and customer satisfaction in the most effective and efficient way possible.
Consistent management for lasting results.
The management has a crucial role in this. Management and employees must be intrinsically motivated to achieve the objectives set out in the strategy. Completing the four pillars under management in a coherent way can help in this.