Strategy consulting by co-creating smart solutions from a customer and organisational perspective
As consultants, we are working on a daily basis to spot opportunities for organisations and translate these opportunities into smart concepts. We do this for various sectors and internationally. Each time we are looking for the tipping point for success for the case in concerned and each time we gain knowledge and experience for the next issue.
We are driven by innovation and optimisation. Where previously the challenge was to centralize customers with different on- and offline channels, we now have to anticipate the network economy and reach and serve customers via platforms. Of course, we are happy to take on this challenge!
We do this in combination with the usual challenges of commercial strategy, proposition and positioning, customer journey mapping, distribution strategies and sales and service excellence programs. All with optimization of people, organization, processes and IT.
FROM THE CUSTOMER AND ORGANIZATION
We always look at challenges from both the customer's and the organisation's perspective. For the customer perspective, we study the latest trends and developments, the relevant market and customer needs. Together with the organization, we take a look at where it stands on the topic in hand so that the solution also meets the organization's needs as much as possible.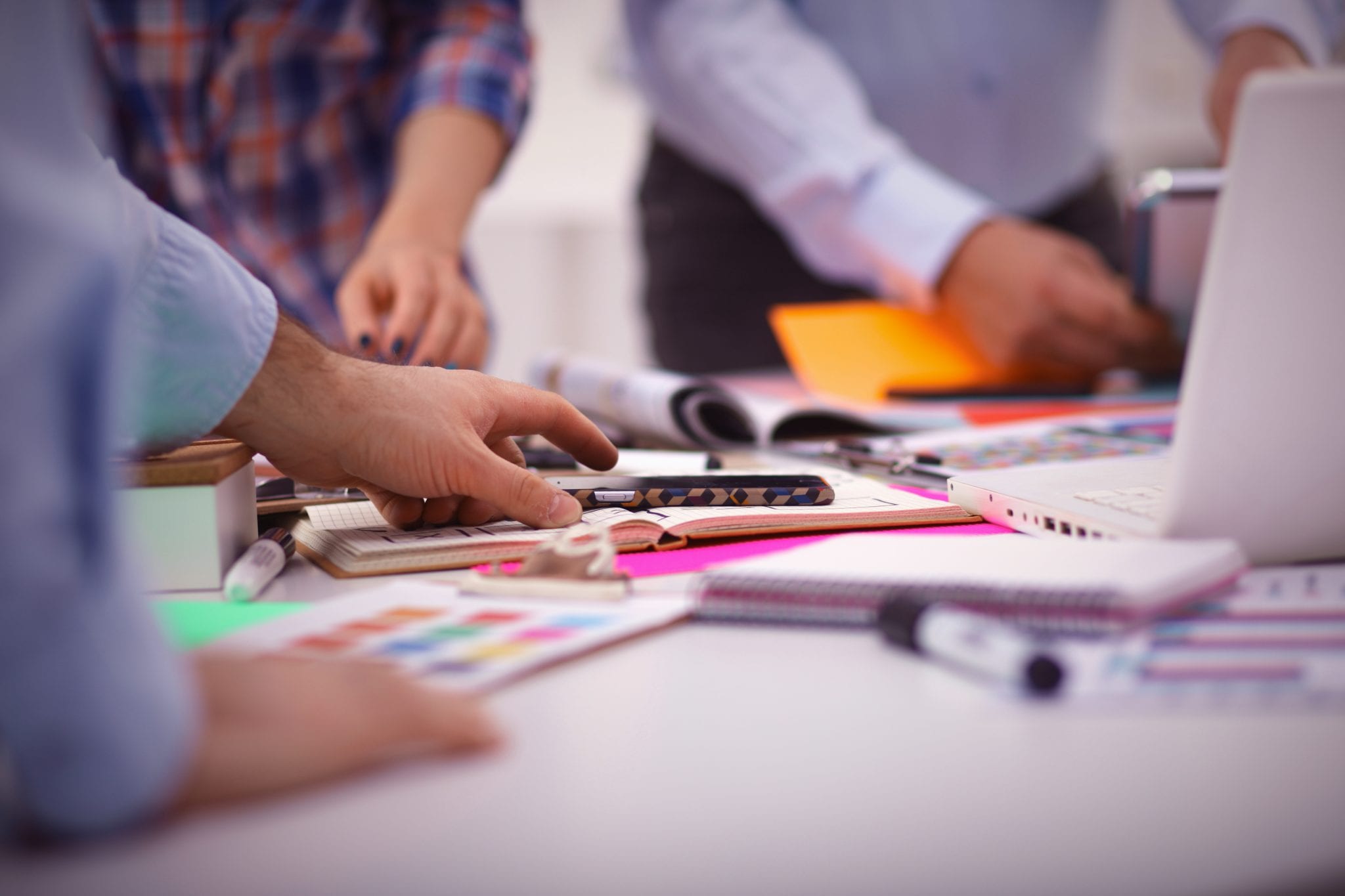 CO-CREATION
We always work together with our customers. From the analysis and designing of the solution, up to and including its possible realization. For a project to succeed, it is essential that the organisation has ownership of it. We achieve this by working together on the solution.
SMART SOLUTIONS
In order to come up with smart solutions, we look for the core of every issue. We use our creativity, empathy, use available and proprietary models and a wide range of knowledge and experience with issues in the field. In this way, we determine the success invoices for this issue in this context.
From strategy
to implementation.
Experience shows that optimizations and innovations are only successful if they are translated into all aspects of the organization. From strategy, to tactical design and its operationalization. When an organization does not see the desired result, the use of this model soon makes it clear where things go wrong. This makes it a good tool to successfully achieve the desired transformation.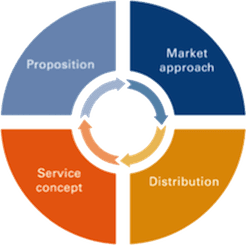 Clear strategy for sharp focus.
Organisations with a clear strategy are able to successfully align their people, processes, structures and systems. A strategy consists of four elements: proposition, marketing, distribution and service.

Specific focus areas
•  Commercial strategy
•  Proposition and positioning
•  Business models
•  Marketing
•  Distribution resources
•  Service concepts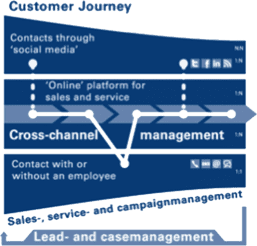 Organisational setup for maximum performance.
Successful (sales) organisations with a good commercial performance have set up the distribution in an unambiguous and coherent manner. By commercial performance we mean delivering maximum conversion and customer satisfaction in the most effective and efficient way possible.
Specific focus areas
•  Platforms and networks
•  Customer Journey mapping
•  Multi-/vernichannel customer processes
•  Sales management
•  Services management
Consistent management for lasting results.
The management has a crucial role in this. Management and employees must be intrinsically motivated to achieve the objectives set out in the strategy. Completing the four pillars under management in a coherent way can help in this.
Specific focus areas
•  Organisation and management
•  Roles and responsibilities
•  HR, people, coaching and training
•  Management info and dashboarding
•  Marketing and Business Intelligence
•  IT solutions