Since 2018, Max has been working at The Next Organization as a working student. Max is studying Technical Informatics at the University of Applied Sciences in Utrecht. The past six months he has been working on his research internship for the University of Applied Sciences in addition to his regular duties. He researched the use of sensors and smart devices to support elderly care. In this article Max shares his experiences and tells what it is like to combine an internship with work at The Next Organization. 
When Max started in 2018, he immediately got a fairly large responsibility. He began his workActivities with the completely new bouwen from the company website. "Despite the fact that quite a few hours by now sit in the construction industry, it is always nice to sth. even better and, above all, to see how much I have learned in in recent years. I sometimes see pieces again of which I now think: he, this can be done in a better way."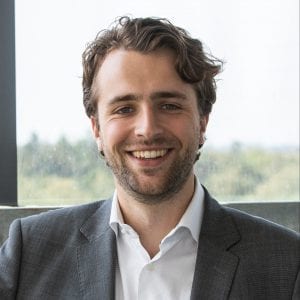 As a working student, Max has not only been busy with the company website. He has also participated in optimising The Marketing and Sales Game and he has started to work on websites for various customers. "The work is very varied. Even if you can't get out of something you can always pick up another piece as a diversion."  
"The past six months, I have worked on my internship in addition to my regular duties in a combination of working two days a week and doing three days of research. This went well, partly due to the support I received from The Next Organization. That support was in content and also in project management." During his internship, Max researched the use of smart devices to enhance the quality of life of the elderly; devices that enable these people to live independently at home for longer. "It was a very fun research project that fits in very well with my studies in Technical Computer Science."  
The COVID pandemic has had a major impact on office life recently and Max has also experienced this. "Actually, not much has changed, except that you see your colleagues a lot less. With online meetings and the occasional online drink, you do get to speak to almost everyone at some point. Apart from that, the way of working has changed very little, because the week starts and meetings continue as usual."
Now that his internship is completed, Max continues even Getting started at The Next Organization as a working student. "In the coming period, I whonour full work with the programming and Building of Websites!  And That's actually what I like doing best in my work.