The Next Organization is a strategic consultancy firm. Coming up with innovative concepts and new business models is where the expertise of its consultants lies. But for these concepts to really succeed, it is essential that they are applied in practice. With the increasing role of platforms and online ecosystems, there is also an increasingly important role for IT. Therefore, The Next Organization has expanded its team with various IT experts, who translate the developed concepts into working platforms that the client can start using right away.
This article offers a behind-the-scenes look at how this works. First, we would like to introduce the IT team:
THE TEAM
Dominic is Manager of Digital Solutions and responsible for devising and implementing sustainable IT solutions. It is important that the customer is not only helped now, but can also easily anticipate changes in the market in the future. He works closely with Dion, Casper and Max, who are mainly responsible for implementation. It is important that knowledge is shared and that at least two people know how a solution has been implemented, so that the team can cover for each other if someone is temporarily unavailable.
Max is on the technical side within the IT team, where he is mainly involved in programming. He also thinks along with the structure and layout of the solutions, calling on his knowledge of existing solutions. After consultation, the best option is then chosen for implementation.
Dion deals with the installation of applications and software. He keeps abreast of the latest developments in this field and is therefore a regular initiator of the introduction of the newest applications. In doing so, he translates the client's needs into practical solutions and strives to keep these solutions as simple as possible.
Casper is, like Max, more on the technical side; programming. He uses the knowledge he acquired during his studies in interaction technology to come up with smart solutions that can be applied in practice. One example is the development of a template on which various professional applications will be built.
Camille is a strategic consultant and forms the link between the customer and the IT team. She translates the customer's wishes into feasible IT solutions. She also determines the look and feel of the platforms and keeps her finger on the pulse of the IT team as to whether the proposed solutions are technically feasible and which route is best to take next.
WHAT DO YOU LIKE MOST ABOUT IT IN CONSULTANCY?
CamilleI enjoy: bringing together different parties on a platform, who create added value for each other on that platform. I also enjoy the customer's surprise and delight at what is possible. It is always nice to be able to surprise the customer.
MaxCertainly, the possibility to come up with a unique solution yourself is what makes IT in consultancy so much fun.
DominicBecause we dive deep into the organisation from the consultancy stage, we understand exactly what is going on, even before IT gets involved. This enables us to switch faster and help the customer much better with the IT challenges they ultimately face.
MaxThe variety of questions that come in to consultancy is also interesting. From a small application to a complete platform. You help different types of customers.
Dion: I like the fact that there are so many possibilities with IT. It is inspiring to see my colleagues at work. They create things I thought would never be possible.
Camille: Indeed. Coding, to me, is still a bit of magic in the work. The fact that you build up something from nothing and thus acquire a personal structure that 'lives', as it were. Because you keep building and developing it.
DominicIt turns out that things that seem complex are often quite easy. But things that seem easy often turn out to be more difficult to solve than expected. That keeps you on your toes.
Casper: As an IT person, I like to see how consultants approach projects and come up with new ideas quickly. Also that you are involved in the whole process with a somewhat smaller IT team. That is instructive.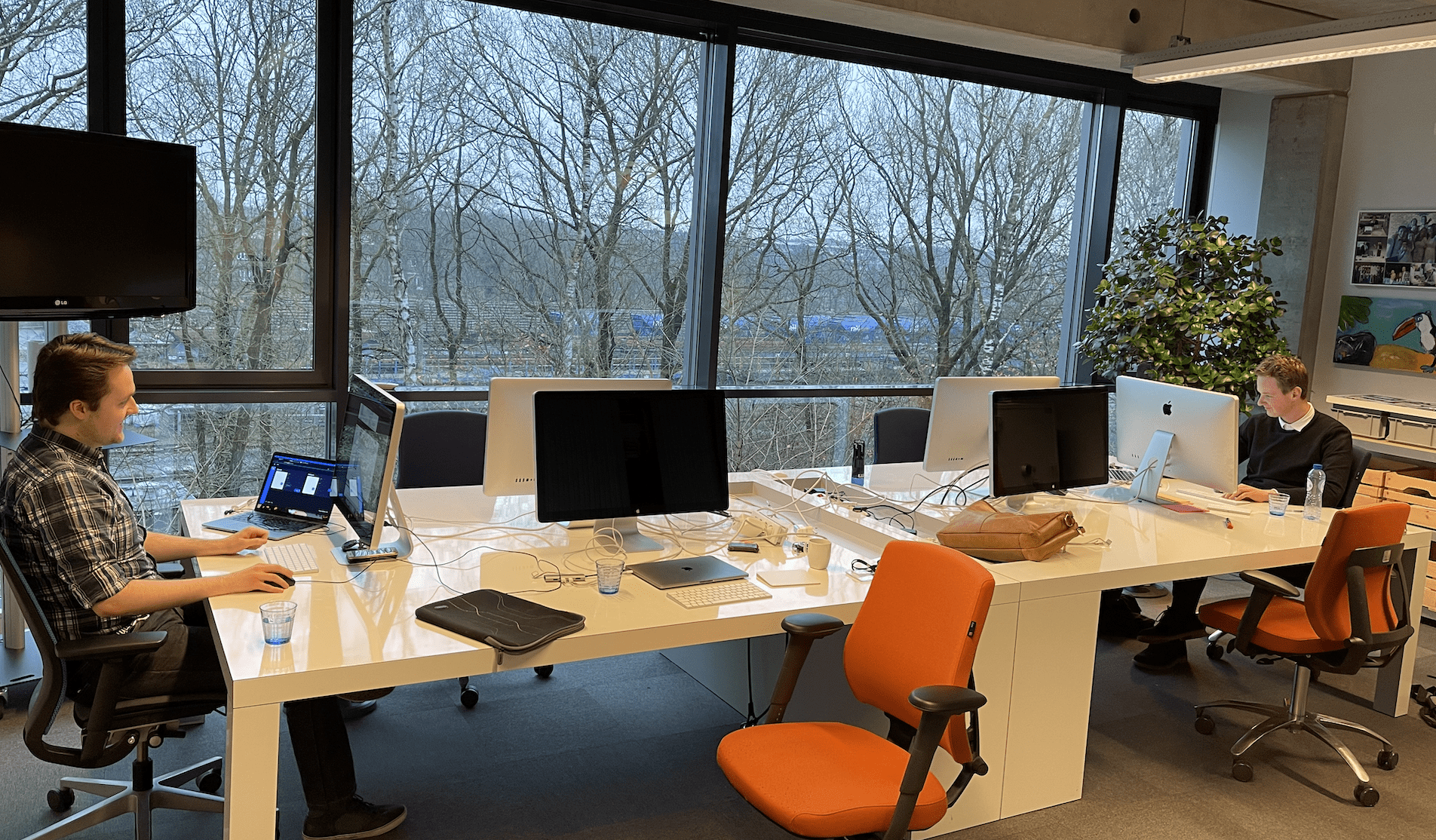 DO YOU SEE OTHER THINGS THAT CHARACTERISE THE TNXTO TEAM?
Dion: Everyone has their own expertise, so we all have our own input. There is really room for that input; everyone is listened to.
MaxDefinitely. The cooperation between different disciplines and fields of knowledge is interesting and instructive for everyone. Also for yourself. You gain a better understanding of your own solution when you explain to someone else what you are doing.
Dominic: I agree with that. Everyone is an expert in their own field and brings their own knowledge. This creates trust, but at the same time you keep each other focused.
CamilleIt doesn't matter whether you are a trainee or an experienced consultant...If you have more knowledge about a certain subject, you are taken seriously. Everyone fills in a little bit to come to a bigger picture together. That makes the cooperation very nice.
WHICH PROJECT DID YOU WORK ON WITHIN TNXTO DO YOU LIKE BEST?
Dominic: We set up an online portal for a company that sells food supplements, which allows you to run a complete vitality programme at a customer's site. We also filled this portal with inspiring content.
Max: This project was also cool to me. We were allowed to set up an entire platform with a good backbone. This allows us to collect anonymous user data and immediately use it to improve the vitality of those same users of the platform.
DominicWhat made this project interesting was that we were involved from the consultancy stage right from the start. This allowed us to make IT choices that prepared the client very well for the future. By listening carefully to the client's needs, we were able to anticipate how these needs would develop in the future.
We anticipated this by opting for a modular approach. This gave us the opportunity to easily remove certain elements from the platform and apply them in other places. This was not part of the initial request, but by thinking ahead, we anticipated it ourselves and achieved success. We would never have succeeded if we had only been involved at a later stage.
Another project I look back on with great pleasure is one in which we launched a new concept (incl. platform) for an international service company. An enormous amount of work had to be done in a short time. Therefore, we worked with a large team until late in order to meet the deadline. We all put our shoulders to the wheel and delivered the project on time. That really gave a nice team feeling.
Camille: In addition to the main customer, various partners were also involved in the concept, all of whom had a particular interest in the delivery of the platform. That gives an extra challenge, because you are dealing with more needs; more noses that need to be in the same direction. When you then manage to impress everyone with what you deliver, that is something we can all be proud of!
Dion: I agree. This was my first project at TNXTO and I was lucky!
Casper: I myself am very proud that what I have created for a customer is now actually going to be implemented. Very cool.
#Dreamteam